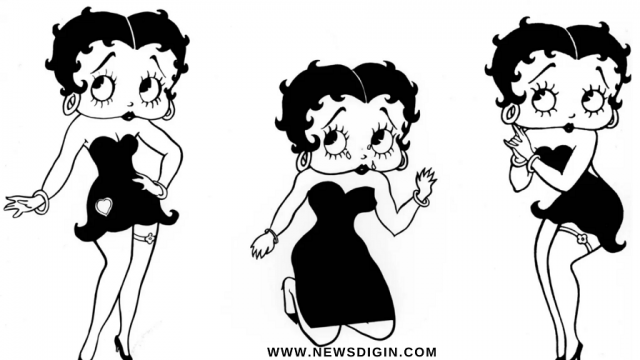 Black Betty Boop | Forgotten African American Betty Boop's Creator: Betty boop short black dress flaring, Betty Boop jumps out of a car. Into a windy street in her debut cartoon in nearly three decades, which was posted online in February.
With only a gaze, she frees designer Zac Posen from a web of enormous vines and converts two argumentative guys on the sidewalk into giggling fools.
Black Betty Boop | Forgotten African American Betty Boop's Creator
Pop Culture
Betty Boop is resurgent in pop culture thanks to the new animated series. According to Jennifer Wolfe of Animation World Network. A flounce-hemmed mini dress and floor-length mermaid gown.
Both in Betty Boop Red, were also unveiled by Posen last month, as well as a sultry red lipstick by MAC Cosmetics. Which was also named Betty Boop Red, for Valentine's Day.
The March issue of Woman's Day features a comic by King Features starring Boop, which promotes women's health. As well as the famous flapper even stars in a new American play titled Collective Rage.
A P.O.V. play. It's a play about gender and sexuality, but it also touches on race because one of the Betty Boops is black. As well as it had its West Coast premiere at Pasadena's Boston Court Theater in February.
The production runs until March 19. There's no stopping Betty Boop, it appears, as she performs in the worlds of film, makeup, and people's minds.
Powerful Parody
As a potent emblem of uninhibited sexuality, Betty Boop has remained a powerful parody of herself throughout her media career. As an anthropomorphic cartoon dog in the short film Dizzy Dishes, she made her film debut in 1930.
The unending parade of lecherous male characters. Eager to see what was underneath. Betty Boop's skirt made her a creation for the heterosexual gaze.
But she also wore her power like a light shrug, and her image was an in-your-face picture of shameless sexuality. Although she employs her sexual allure to great effect in Posen's cartoon.
The artist referred to her as "the ideal femme fatale and feminist" A cliché, yet she also bucked the expectations of what female cartoon characters might do onscreen.
Real Life Ladies
Betty Boop was based on a variety of real-life ladies from the beginning. Aside from being a spoof of famed.
White vocalist Helen Kane, Fleischer also wanted to imitate one of the most prominent Roaring Twenties sex symbols, Clara Bow. Who was an American actress.
A trademark of the Cotton Club in Harlem in the 1920s, Esther Jones had a beautiful and distinctive voice that became.
Synonymous with the club. During her performances, she would say, "Boop-oop-a-doo," with her dark bob of hair flying.
This is a rare picture of Jones, and she appears to be beaming as she sits. A lot like Kane's and, in turn. Betty Boop's scat words, she has a similar sounding voice. That wasn't a fluke.
But Baby Esther vanish and assume dead during the court case in 1934 and Kane remain the face and name most associate with Betty Boop.
The Original Boop-Oop-a-Doop Girl was a comic that Kane propose after she lost the lawsuit, and the title further conceal the identity of Baby Esther.
Also Read: